About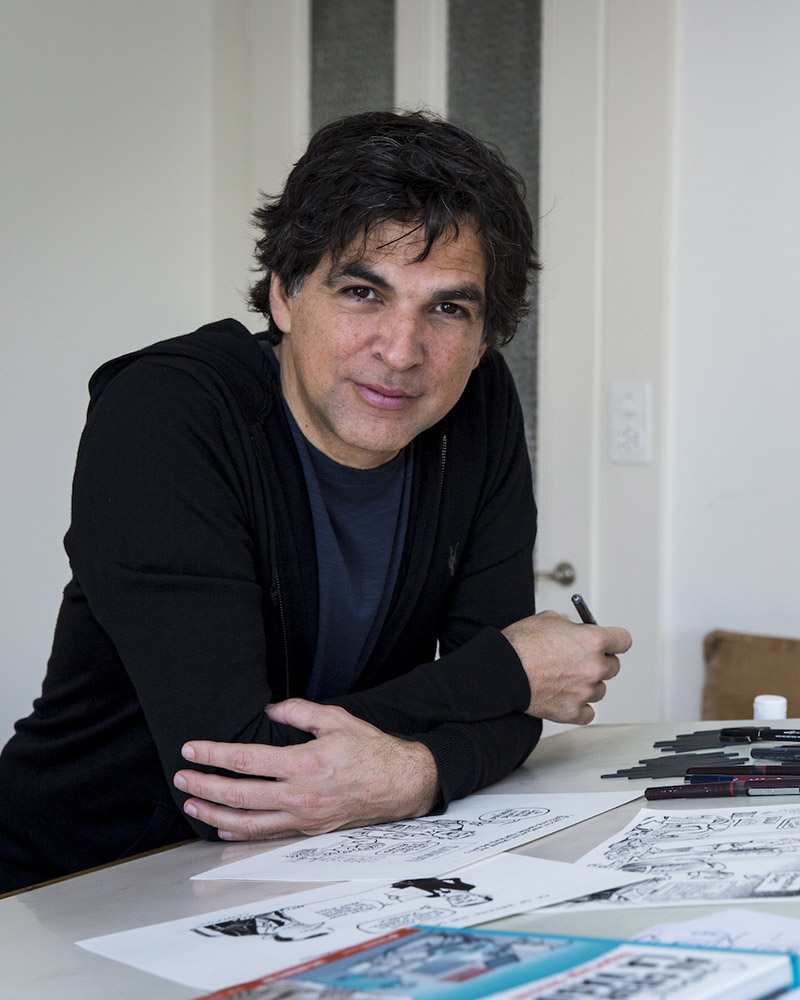 Photo: 2021, © Matthieu Zellweger
---
Mr. Chappatte was born in 1967 in Pakistan to a Lebanese-born mother and a Swiss father. He was raised in Singapore and Geneva, and lived in New York and Los Angeles. He now works and lives in Geneva with his wife and their three sons.
---
Download the school brochure (updated Nov. 3, 2021)
> TO REPRINT A CARTOON OR CONTACT CHAPPATTE: write HERE
> TO BOOK HIM FOR A SPEAKING ENGAGEMENT: contact ProjectSpeaker HERE
Patrick Chappatte
Patrick Chappatte is an editorial cartoonist and a pioneer of graphic journalism, or comics journalism. He was for many years the in-house cartoonist of The New York Times. A passionate advocate for freedom of expression in a spirit of dialogue, he organizes collaborative projects all over the world and leads a foundation promoting cartooning as a tool for democracy.
Chappatte currently works for The Boston Globe (USA), Der Spiegel (Germany), le Canard enchaîné (France), Le Temps and NZZ am Sonntag. (Switzerland). Earlier in his career, he contributed to The New York Times Book Review and created a comic strip for Newsweek International called "Rob the Cybernaut." He began drawing political cartoons for the International Herald Tribune in 2001, before introducing the genre to The New York Times in 2013. His work was featured on the NYT's website, social media and international print editions, as well as on the NYT's Chinese and Spanish websites.
In June 2019, a few weeks after republishing a controversial cartoon from syndication, The New York Times decided to terminate all political cartoons. This decision inspired an essay by Chappatte that gained worldwide attention, as well as a TED Talk. It led to the publication of the book "This is the end", foreworded by Nobel laureate Joseph Stiglitz.
Awards & Talks
Patrick has spoken at the World Economic Forum, TED and NYTimes conferences, in a unique lecture style rich in cartoons and animations. He was named a Young Global Leader by the WEF in 2006 and was awarded an honorary Doctorate by the Swiss federal school of technology EPFL in October 2022. He is a three-time recipient (2011, 2015 and 2018) of the Overseas Press Club of America's Best Cartoon Award (formerly Thomas Nast Award) in New York – the only non-American to have won this prize. He has received awards in France and Switzerland.
Comics Journalism & Exhibitions

Throughout his career, Chappatte has developed comics reportage in print, on the web and on TV. Stories include the war in Gaza (2009), the slums of Nairobi (2010), gang violence in Central America (2012), k-pop in South Korea (2013) and the dark side of Silicon Valley (2019). In 2016, with the help of his wife, journalist Anne-F Widmann, he created "Inside Death Row", a five-part graphic journalism series for The New York Times – the first time the NYT published this form of reporting.
This work was part of a larger project by Chappatte and Widmann to foster a conversation on capital punishment: "Windows on Death Row", an art exhibition bringing together works from U.S. editorial cartoonists and contributions from death row inmates, which opened in Los Angeles in 2015 and toured the U.S. for two years. For this project, the couple interviewed prisoners in maximum-security facilities across the country.
A major Chappatte retrospective presented in 2020 in Le Locle (Switzerland) and in 2021 in Geneva's contemporary art building was turned into an immersive 360° VR tour with an online store offering large format prints.
Foundation & Collaborative Projects

Since 2003, Chappatte has collaborated with editorial cartoonists in conflict-ridden countries with the aim of promoting dialogue through cartooning. These projects, called "Crossed Pens" focused on Serbia, Ivory Coast, Lebanon, Kenya, Guatemala and Mexico. He described this work in another TED talk in 2010.
Chappatte chairs Geneva-based "Freedom Cartoonists Foundation" (previously "Cartooning for Peace"), inspired by cartoonist Jean Plantu and the late Nobel Peace winner Kofi Annan - who was the organization's honorary chairman. Every two years, the Foundation awards an international cartoon prize. In September 2016, it organized a Beethoven symphony in cartoons in Geneva's concert hall and, on May 3, 2022, it celebrated World Press Freedom Day with Nobel Peace laureates Maria Ressa and Dmitry Muratov.